Throughout the year we host a rolling programme of diverse exhibitions; from local groups to international artists. This year, the exhibitions capture a moment in time and the spirit of people and place.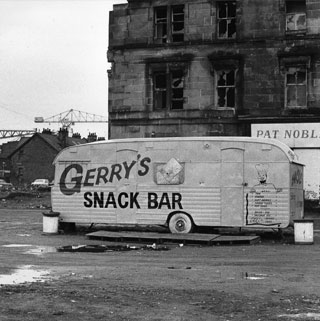 STREETLEVEL PHOTOWORKS: HUGH HOOD GLASGOW 1974
JANUARY 2015
1974: a unique period in Glasgow's social and architectural history when half of the city's tenements were being demolished and the other half undergoing transformation and construction. In this exhibition, Hugh Hood captures this moment in time from the tenements to the cheeky wee boys in the back courts.
GLASGOW SCHOOL OF ART
FEBRUARY 2015
An exhibition of site specific work by 4th year Sculpture and Environmental Art students.
GLASGOW KELVIN COLLEGE
MAY 2015
Annual exhibition from students studying fine art photography.
---
Throughout the year Platform hosts a rolling programme of exhibitions utilising its large scale exhibition wall. Platform has a selection of unique spaces to accomodate all kind of exhibtions. We work alongside many local arts groups to have the opportunity for the public to see the variety of great talent and creative works.
If you would like more information on how to exhibit, please contact info@platform-online.co.uk
---